Directors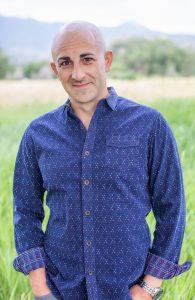 Max Shulman is an Assistant Professor of Visual and Performing Arts at UCCS. He is the director of the HomeFront Theatre Project, that has been creating events around issues facing our active duty service members, veterans and their families for the last six years. He was recently asked to serve as a panelist for the New York Times panel "Back Home From the War" and at the COPPeR "Creative Forces" Conference. He is also a professional theatre director with recent credits including An Iliad by Denis O'Hare and Lisa Peterson, retelling the story of the Trojan war and how it reflects military experience and trauma today. Max is the director of the Heller Center for the Arts and Humanities and the author of two books on performance during the Progressive Era. He holds a PhD from Tufts University and a Masters from Hunter College.
Jennifer Kling is Assistant Professor of Philosophy and Director of the Center for Legal Studies at the University of Colorado, Colorado Springs. Her research focuses on moral and political philosophy, particularly issues in war and peace, self- and other-defense, international relations, protest, and feminism. She is the author of War Refugees: Risk, Justice, and Moral Responsibility (Lexington, 2019), as well as articles in Radical Philosophy Review, Journal of Global Ethics, and The Routledge Handbook of Pacifism and Nonviolence, and is the editor of Pacifism, Politics, and Feminism: Intersections and Innovations (Brill, 2019). She is also the Executive Director of Concerned Philosophers for Peace, the largest, most active organization of professional philosophers in North America involved in the analysis of the causes of war and prospects for peace. Jennifer grew up in Indiana, and received a BA in English and Philosophy from the University of North Carolina at Chapel Hill, an MA in Philosophy from the University of Colorado at Boulder, and a PhD in Philosophy from the University of North Carolina at Chapel Hill.
Project Assistant
Lauren Rock is a senior at the University of Colorado Colorado Springs. She graduates in the spring of May 2023 with a double major in Political Science and Philosophy and a minor in Pre-Law. Lauren plans to pursue graduate school for a degree in Political Philosophy.
Advisory Board
Jeff Deickman is the Benefits Processing Manager and a School Certifying Official for Veteran and Military Affairs at UCCS. His 20 plus years in the Army include everything from D.C. to Korea, the Defense Threat Reduction Agency to Medical Education and Training Campus, and multiple combat tours. He was part of the inaugural Mayor's Civic Leaders Fellowships working with the city of Colorado springs in 2020, and a Colorado Department of Higher Education Policy Fellow in 2021. A member of Veterans Knowledge Community (VKC) on the Advisory Board for Diversity, Inclusion, & Social Justice Coordinator for National Association of Student Personnel Administrators. He has a Master's of Education from Trident University and is a Doctoral student at UCCS in Educational Leadership, Research, and Policy focusing on veteran success in higher education.
James Cook (U.S. Air Force Col., PhD in Philosophy, Universität-Heidelberg, Germany) is Permanent Professor and Head of the Philosophy Department at the United States Air Force Academy in Colorado Springs. A Cyber and Foreign Area Officer, he has served in Europe, Afghanistan, and the Pentagon, in addition to writing several scholarly articles on the ethics and future of war.
Kate Hatten (MA in Public Administration, Syracuse University) is the President of the Home Front Military Network where she coordinates services for veterans across the Pikes Peak region. Previously, she served as Military Impact Planning program manager for the Pikes Peak Area Council of Governments (PPACG), coordinating the Fort Carson Regional Growth Plan and military-community partnering efforts. She has also served in local government in Colorado, holding positions in Douglas County.
Bob McLaughlin (U.S. Army Col. Ret) is the director of the Mt. Carmel Veterans Service Center. Under his leadership, Mt. Carmel has become one of the most influential and effective service providers for veterans reintegrating into civilian life in the Colorado Springs/Pikes Peak region. Col. McLaughlin has helped administer "boots to suits" employment programs, counseling, internships, and general wellness programs for thousands of Colorado Springs veterans.
Jessi Smith (PhD in Psychology, University of Utah) serves as the Associate Vice Chancellor for Research at UCCS, overseeing research policies and practices, compliance and integrity, and creating and sustaining programs that support the campus research community.
Partners
Food For Thought – an organization dedicated to bringing people of different backgrounds together and sharing food, ideas, and opinions about issues that are important to them and their community. Director, Carol Scott https://foodforthoughtcs.org
Erin Fowler (MA, LPC, UCCS Veterans Health and Trauma Clinic) serves as the Strategic Alliances Liaison, Student Training Supervisor, and a Clinical Therapist at the UCCS Veterans Health and Trauma Clinic where she has been since 2014. Erin has worked locally with AspenPointe, TESSA, and Urban Peak, specializing in treating complex post-traumatic stress disorder in those with extensive combat history.
ABOUT THE NATIONAL ENDOWMENT FOR THE HUMANITIES
Created in 1965 as an independent federal agency, the National Endowment for the Humanities supports research and learning in history, literature, philosophy, and other areas of the humanities by funding selected, peer-reviewed proposals from around the nation. Additional information about the National Endowment for the Humanities and its grant programs is available at: www.neh.gov.
Any views, findings, conclusions, or recommendations expressed in this Web resource do not necessarily represent those of the National Endowment for the Humanities or UCCS.